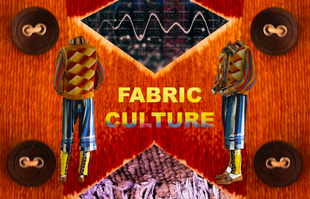 Did you know that Australian composer and innovator Percy Grainger also designed and made his own clothes?
Fabric Culture is an interdisciplinary collaboration project, between the Faculty of Fine Arts and Music and the Grainger Museum. Through sound and vision, patterns and threads of cultural connection are traced in the exhibition, featuring major new commissioned works by Anthony Lyons and Paul Fletcher. Visitors can interact with and be immersed in an audiovisual sculptural space that takes inspiration from the patterns on Grainger's toweling costumes and from recycling/op-shop re-purposing, as well as the noises and rhythms of sewing machines.

The exhibition also showcases a new collaborative audiovisual work, 'Pattern Loops' recently created by MCM Interactive Composition and VCA Animation students in response to the ideas, patterns and clothing designs of Percy and Ella Grainger.
Fabric Culture runs until August 29. More info here.