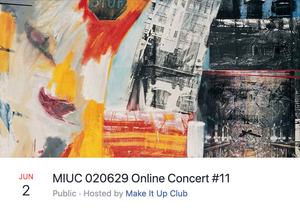 The Isolation Improvisation Collective joins the Make it Up Club this coming week! 
The Make it up Club has been presenting weekly curated experimental, improvised, and avant-garde music and sound happenings in Melbourne since 1998. 
  
Tune in Tuesday, June 2 at 8pm AEST for a curated YouTube concert of improvised and experimental music: 
https://www.youtube.com/channel/UCnnWQcs_U9LqNurutqRyxjQ
THIS WEEK: 
Miranda Hill + Alice Bennett 
Shane Van Den Akker 
Clinton Green 
Isolation Improvisation Collective 
You can support the performers by making a donation to makeitupclub@gmail.com via paypal or by visiting paypal.me/makeitupclub. Recommended $5/$10 donation, similar to previous MIUC live concerts.